Meet our fabulous Year One class 2019-2020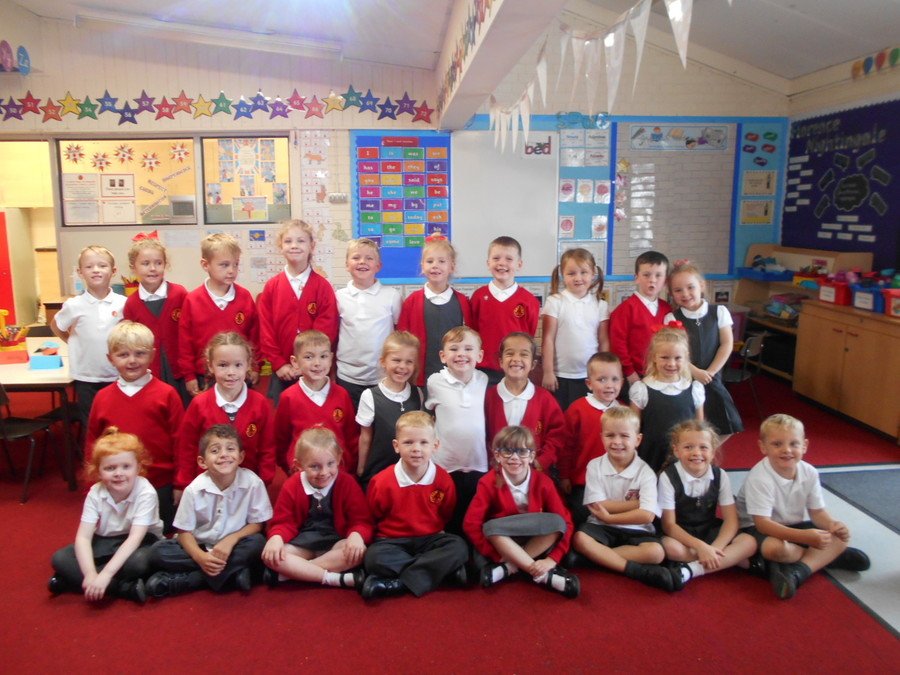 Teacher

Mrs L. Bibby

Learning Assistant

Mrs D. Edwards

Learning Assistant

Mrs L. Goldsack
About the class...
In Year 1 we believe that children learn best when they feel safe and secure, in an environment where their ideas and opinions are valued.
We also believe that enjoying learning and having fun is key to their ability to succeed.
Therefore all of the lessons are interactive, exciting and engaging and involve the children in as many ways as possible.
The children also still have plenty of opportunities to learn through play while accessing our wonderful areas of continuous provision. We have areas such as a reading corner, numeracy area, writing area and role play.
We believe that a great resource can be each other so discussions and questioning are encouraged in all aspects to allow the children to learn from others to build up their own understanding.
All individuals
Each child enters Year 1 at a different stage; some are ready for the National Curriculum, whereas others will require a little support to achieve the Foundation Stage Profile objectives from Reception.
To continue the learning journey we take assessments made in Reception and identify the next steps for each child.
We see every child as an individual, not just a year group. We understand that every child learns in a different way and has different interests and it is our aim to adapt our teaching to suit the children.
We encourage their independence throughout, allowing them to take ownership of their learning and achievements and to understand how to solve problems on their own.
What do we learn?
We have daily Read Write Inc, Numeracy and challenge curriculum sessions where we can work on our core skills.
Our writing is focused around a book that we are reading or a topic area and we produce some fantastic writing of our own linked to this work.
We teach most areas of the curriculum through the challenge curriculum where the different areas of the curriculum are linked through a common theme for example "Where is all the snow? in science and Geography.
Take a look at our learning so far this year 2019-2020
Year 1 had a magical time on their trip to Tatton Park.
Take a look at our amazing project work.
Letters to Father Christmas
Year 1 had great fun whilst walking to the local post box to post their letters to Father Christmas.
Book Bus visit - sharing our love of reading
Take a look at the wonderful projects Year 1 have created.
Welcome to your new class, Year One. Take a look at the fantastic learning and fun we had last year (2018-2019). Keep checking this page for our new learning this year.
Look at our super projects.
Super Hero Day
We have been learning about how super our bodies, so to celebrate our learning we took part in Super Hero Day. We all had great fun using our super body parts and super senses.
Bonfire Night.
Today in Year 1, we learned the real reason why we celebrate Bonfire Night. In order to embed our learning we re-enacted some of the main events around the Gunpowder Plot. The children were amazing, learning lines in such a short time and there was some brilliant acting too.
Arctic Expedition
Take a look at the wonderful time Year 1 had on their trip to the Arctic. In the morning they took a trip on a plane and conducted a science experiment to investigate how polar bears keep warm. Then after a party lunch they had to navigate to the camp to take part in more Arctic themed activities. The day concluded with a tasty drink of hot chocolate and a biscuit.
Sea Life Centre
Year 1 had an amazing time extending their learning at the Sea Life Centre.
Chester Zoo ranger's visit.
Drama
This term we have increased our use of drama to support our Literacy lessons .
Summer 1
Take a look at our amazing projects.
Tudor Day
Year 1 had a wonderful day considering life during the reign of Queen Elizabeth I. They all had the opportunity to dress up and touch artefacts.
Royal Day
Year 1 spent the whole day being treated like royalty. The royal ball hosted by our very own Ashurst's king and queen was a great success.