Teacher

Learning Assistant

Mrs P. Prescott

Learning Assistant

Mrs W. Duffy

Learning Assistant

Mrs K. Mulligan

Learning Assistant

Mrs P. Evans
Maths summer term lessons
Please click on the link below to help support your child with maths learning at home.
New History online learning
New Science Learning- click on the link below:-
https://www.ase.org.uk/ase-coronavirus-hub-primary-remote-learning-resources
NEW Mental Health and Well-being resources - see the home learning page and the link below
New resource to support mental health and well-being with your child
wk 1 You will find the first week's resources available via ShareFile https://barnardosuk.sharefile.eu/d-s4d9883f0b9d44afb
Part Two Weekly Home Learning Tasks - From Monday 1st June
New Spanish Home Learning
| Name | |
| --- | --- |
| Autumn 1 Topic Web Year 6 2019_2020.doc | Download |
| Autumn 2 Topic Web Year 6 2019_2020.doc | Download |
| Knowledge Mat Planning - history - famous people.docx | Download |
| Knowledge Mat Planning - science - light.pdf | Download |
| Knowledge Mat Planning - topic - yr 6 - Contrasting Locality.pdf | Download |
| Spring 1 Geography - Are we damaging our world.pub | Download |
| Spring 1 Topic Web Year 6 2019_2020.doc | Download |
| Spring 2 History- Ancient Greeks.pub | Download |
| Spring 2 topic web Year 6 - 2020.doc | Download |
| spring-2-science- Classification of living things.pub | Download |
Year 6 - Mr Lawton
Learning Assistants - Mrs P Prescott, Mrs W. Duffy, Mrs K. Mulligan and Mrs P. Evans
Teaching and Learning:
In Year 6 we are busy getting ourselves High School Ready. We try to make all our learning fun and enjoyable and the children really thrive to improve their learning in all areas of the curriculum.
There is a big emphasis on homework and extending learning beyond the classroom. Children are expected to have rapid recall of all their times tables, learn spellings weekly as well as the Year 5 and Year 6 Spelling List (Found in their Reading Records) Maths and Literacy homework is also sent on a Friday and is expected the following Wednesday. This is a vital aspect of Year 6 as this will become common practice when the children move up to High School.
Key Stage Two Tests this year will take place wc 11th May 2020.
PE in Year 6 takes place on a Wednesday afternoon and our swimming lessons will commence on Thursday 12th September for a period of 6 weeks.
Later on in the Year, we will visit Kingswood for the Year 6 residential. This will take place during the week and further details and information will follow.
If you would like to discuss any aspect of your child's learning then please don't hesitate to call and make an appointment to see us.
Thanks for your continued support
Mr Lawton and the Year Six Team
Check out our learning for this year!
Manchester University Science Visit
We had some electrical engineers, who are working on cutting edge technology, eg moving things with your mind - come and talk to us and show us how to make electrical circuits. We all made a circuit and lit a light bulb - this was challenging but great fun! We now understand how lights in our own homes work, as this is the same but on a larger scale with more wires.
Guided Reading Drama Lesson
So far this year we have been reading the exciting book Groosham Grange by Anthony Horowitz. We love this funny story and to show our understanding of one chapter we acted out the scene David's train journey to Groosham Grange. Some of us really got into character and even ended up on the floor. Ask us to explain more.....................
Year 6 Class Assembly
Year 6 have written their own class assembly and shared this with parents, carers and other adults on Thursday 3rd October at 9:30 . The children have worked so hard to include their favourite lessons and learning from this term and performed fantastically in front of their audience. Thank you so much for your attendance and participation in order to make their assembly a memorable occasion for all.
Geography Fieldwork Trip to the Lake District.
We visited the Brockhole Centre and learned about how tourism has an impact on the site - we walked round identifying features of both positive and negative effects and worked as team to discuss topics like erosion, congestion and polution - Did you know over 19 million people visited the Lake District in 2018? We looked at landscapes and went on a boat trip around Lake Windermere.
Blank Canvas
Working with St Helen's Chamber , we have looked at various issues that affect the young children of St Helens. Together we wrote a story about a girl called 'Helen' and produced a short dance telling her story. (Have a look at our story and Mental Health Poster below)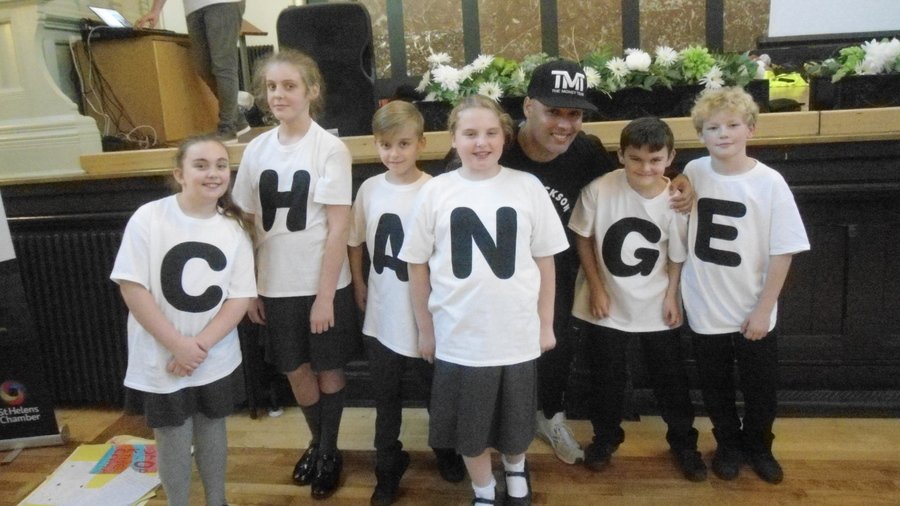 World Book Day
Year 6 went down to read to Nursery and Reception, in order to share their passion and love of reading across the school. Click on the slideshow below to see our slideshow.
Key Stage 2 Sats Meeting
Please find below key information shared at the parents SATS meeting held on 12th March. Any other questions then please don't hesitate to contact school.