Year 6 class 2020-2021 welcome message
'Excellence Everyday'
We have missed you all so much and we can't wait to start the new school year with you. You will shine bright in all of your new learning in the year ahead.
'Learn, Live, Laugh and Love Ashurst'
Learn to be inspiring and make a difference to this world, we know how amazing you are,
Live with understanding and compassion for others, knowing we are all different and special in a community where equality stands tall,
Laugh and listen to the enjoyment of learning and excitement of everyone celebrating their achievements,
Love Ashurst, our special school and the hub of supportive staff, parents and children who aim high to be the best they can be.
Teacher

Miss L. Hughes

Learning Assistant

Mrs P. Prescott

Year 6 2020 - 2021
Teacher - Miss L. Hughes
Learning Assistants - Mrs P. Prescott
We have lots of great opportunities planned for the year ahead and we are looking forward to sharing our adventures with you. Our website page will be home to a variety of helpful information, key dates and photographs of our fantastic learning journey. We can not wait to share it with you and show you all what we have been up to!
About us...
Year 6 is such an exciting year as the children are reaching the end of their primary school journey here with all of us at Ashurst. They start to take on more responsibility around the school as they are maturing, giving them more independence, which helps with getting them 'high school ready'.
When the children return to school, Ashurst will look slightly different physically, but our ethos and values still remain the same and a strength. There will be different routines and arrangements to what the children may be used to, but do not worry we will help them to get used to things quickly and easily and settle them straight back in to school life. We look forward to seeing you all back at school again really soon!
Your new times of the school day are as follows:
Start time: 9.05am
Lunch time: 12.40pm
Finish time: 3.20pm
Important notes to remember...
Homework
There is a big emphasis placed on homework and extending learning beyond the classroom; especially in Year 6. Maths and English homework is sent home on a Friday and is expected to be back in class by the following Wednesday; please ensure that this is given in on time. This is a vital aspect of Year 6 as this will become common practice when the children move up to High School. Children are also expected to have rapid recall of all their times tables, learn their spellings weekly, ready for their tests, as well as learn the Year 5 and Year 6 spellings from the list which can be found in their Reading Records.
SATS
Key Stage Two Tests this year will take place W.C. 10th May 2021. A meeting will be held in the Spring term 2021.
PE
PE in Year 6 takes place on a Monday and Friday afternoon. On these days, please come into school in your outdoor kits with your trainers. You can bring in your pumps to keep in your lockers in case we are doing indoor PE.
PGL
Later on in the year, we are hoping that our Year 6 residential will go ahead; this is all dependent upon the COVID-19 situation and travel advice. If this is possible, we will provide further details and information, and invite you to a meeting during the Spring term 2021.
If you would like to discuss any aspect of your child's learning then please don't hesitate to call and make an appointment to see us.
Thank you for your continued support and we look forward to working alongside your families
Miss Hughes and Mrs Prescott
P.S. Remember to keep those Maths and English skills flawless and impeccable by going on Times Table Rockstars, spag.com, Re and practising your year 5/6 word list spellings.
Year 6 Long Term Plan 2020-2021
Year 6 Covid-19 (Home Learning)
'Gap Learning Packs' have been issued at the end of summer term as your child moves from Year 5 to Year 6. These packs are to support your child in preparation for the September 2020 start. These are in addition to previous packs sent out and the online learning provided below and on the Home Learning Page in Parent Zone.
We really value the amazing work you are doing at home with your child/children.
Please access the home learning tasks below to support continued home learning.
Part Two Weekly Home Learning Tasks - From Monday 1st June
| Name | |
| --- | --- |
| Week 10 Y6 Home Learning Famous and Significant People.pdf | Download |
| Week 11 Y6 Home Learning Around the World.pdf | Download |
| Week 12 Y6 Home Learning Music.pdf | Download |
| Week 13 Y6 Home Learning Space.pdf | Download |
| Week 14 Y6 Home Learning Transport.pdf | Download |
| Week 15 Y6 Home Learning Under the Sea.pdf | Download |
| Week 8 Y6 Home Learning Sport.pdf | Download |
| Week 9 Y6 Home Learning The Rainforest.pdf | Download |
Showing 1-8 of 8
New Spanish Home Learning
| Name | |
| --- | --- |
| Ashurst Spanish Y6 Final Lesson.pptx | Download |
| Y6 Lesson 6 Ashurst Spanish Transition.pptx | Download |
| Y6 Lesson 6 Activity Sheet.docx | Download |
| Y6 Lesson 5 Ashurst Spanish Transition.pptx | Download |
| Y6 Lesson 5 Quiz Instructions.docx | Download |
| Y6 Lesson 4 Ashurst Spanish Transition.pptx | Download |
| Y6 Lesson 4 Spanish Activity Sheet.docx | Download |
| Y6 Lesson 3 Ashurst Spanish Transition.pptx | Download |
| Y6 Spanish Lesson 3 Activity Sheet .docx | Download |
| Y6 Ashurst Transition Spanish Lesson 2 .pptx | Download |
Take a look at our exciting learning from 2019-2020
Manchester University Science Visit
We had some electrical engineers, who are working on cutting edge technology, eg moving things with your mind - come and talk to us and show us how to make electrical circuits. We all made a circuit and lit a light bulb - this was challenging but great fun! We now understand how lights in our own homes work, as this is the same but on a larger scale with more wires.
Guided Reading Drama Lesson
So far this year we have been reading the exciting book Groosham Grange by Anthony Horowitz. We love this funny story and to show our understanding of one chapter we acted out the scene David's train journey to Groosham Grange. Some of us really got into character and even ended up on the floor. Ask us to explain more.....................
Year 6 Class Assembly
Year 6 have written their own class assembly and shared this with parents, carers and other adults on Thursday 3rd October at 9:30 . The children have worked so hard to include their favourite lessons and learning from this term and performed fantastically in front of their audience. Thank you so much for your attendance and participation in order to make their assembly a memorable occasion for all.
Geography Fieldwork Trip to the Lake District.
We visited the Brockhole Centre and learned about how tourism has an impact on the site - we walked round identifying features of both positive and negative effects and worked as team to discuss topics like erosion, congestion and polution - Did you know over 19 million people visited the Lake District in 2018? We looked at landscapes and went on a boat trip around Lake Windermere.
Blank Canvas
Working with St Helen's Chamber , we have looked at various issues that affect the young children of St Helens. Together we wrote a story about a girl called 'Helen' and produced a short dance telling her story. (Have a look at our story and Mental Health Poster below)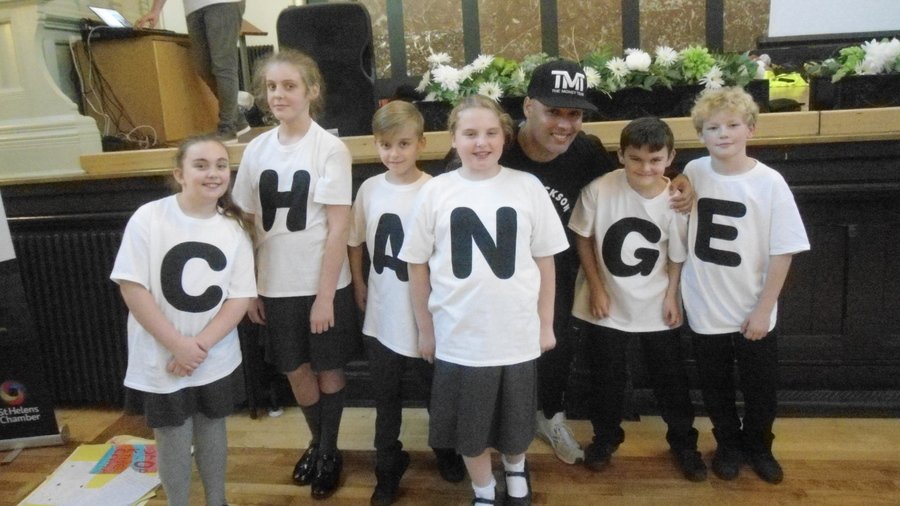 Key Stage 2 Sats Meeting
Please find below key information shared at the parents SATS meeting held on 12th March. Any other questions then please don't hesitate to contact school.