Teacher

Mrs K. Crampton

Teacher

Mr J. Robinson

(Maternity Leave Cover)

Learning Assistant

Mrs P.Evans

Learning Assistant

Mrs K. Mulligan

Learning Assistant

Mrs W. Duffy
About the class...
Year 5 - Mr J. Robinson
Learning Assistants - Mrs P. Evans, Mrs W. Duffy and Mrs K. Mulligan
Year 5 is an extremely exciting year. A chance for our children to develop their confidence, independence and cooperation through a wide range of activities. As a member of the Year 5 team children are given many opportunities to develop important life skills through Literacy and Numeracy. They are encouraged to do the very best they can at every opportunity and the range of experiences are ever increasing. Excellence is key to what we do. Whether children are inspired by a particular text such as Millions or an exciting Geography project. We are sure our children will find our topics exciting which will make their experience in year 5 a rewarding one.
Learning Environment
Our Learning Environment is specifically organised to be rewarding and stimulating. Children are encouraged to take ownership of displays and areas so that they grow with them throughout the year. Literacy and Numeracy are obviously very important and the key skills to excel in these areas are highlighted on bright and colourful displays. Help is never far away and children find examples of best practice close to hand. We have working walls and writing resources, all of which are designed to help with our children's learning. We are certain the children will learn from their time with us and demonstrate their learning through high quality work.
Rules and Routines
At the beginning of the year children are encouraged to contribute to our class rules. This runs alongside the schools Golden Rules and is expected to further improve the learning environment for all and in turn developing strategies for 'Behaviour for Learning'. Conversation and discussion are encouraged in Year 5 and is balanced with dedication to learn and succeed through quiet and independent work.
What do we learn?
In Year 5 children cover a wide range of topics. Literacy and Numeracy play a huge part in everything they do. Children learn about many aspects and genre and grammar. In maths they will experience a wide and varied approach to all aspects of calculations and concepts. Through Science; they will learn about keeping healthy, properties of materials and the world around them through Challenge. In Science we will study life cycles of plants and animals and in History a range topics too; such as The Maya Civilisation and Charles 1st.
Check out our Year Five class gallery!
Citizens Advice Workshop- St Helens Citizens Advice team visited Year Five this week to help them understand how to be more energy efficient in the home, and learn how to prioritise necessities and luxuries when you have a budget. The children were able to understand key terms, like Council Tax, and how it is used to improve their home life.
Build it Up Resilience Workshop- Year Five greatly enjoyed learning about how to instil more positive beliefs about themselves and others in their workshop from Ocean Coaching. It was a great opportunity to reflect on some negative beliefs we hold about ourselves, and transform them into the opposite with evidence. All of the children greatly enjoyed every aspect of the workshop.
Clonter Opera Theatre Project- We had a fantastic opportunity to work collaboratively with Clonter Opera Theatre in Congleton in order to produce our very own production. As part of the planning for our production, we took part in set and lighting design, singing and then costume design workshops. As a result, we were able to create a production to show how a family of monkeys were affected by deforestation happening in their part of the Amazon rainforest. We thoroughly enjoyed developing our social skills and confidence as part of this project.
Haydock High School- Yesterday, we had an amazing morning at Haydock High School as part of British Science Week 2019 and high school transition. First, we took part in a Science workshop, where we built a capsule to protect an egg. Then, we went to a D&T workshop, where we learnt how to make bridges using different materials. The children greatly enjoyed it, and some even said it was the best they'd been on. Thanks to Haydock High School for the opportunity to look what learning happens at high school.
Photos of the morning below...
British Science Week 2019: Chester Zoo Rangers Workshop- This afternoon we took part in a workshop led by Chester Zoo rangers. They helped us understand the rainforest layers (which links well to our current rainforest topic), and typical things that might be found within them. Please look at the pictures before to see how much fun we had.
World Book Day 2019- Year Five have had a fantastic day for World Book Day 2019. Firstly, we have been learning how to write a dual narrative to retell the story of 'That Is NOT A Good Idea' by Mo Willems. Also, during the day, we read to the Year One children, who really enjoyed spending time with the older children and listen to their favourite stories.
Exciting Home Learning- One of our Year Five children has produced a fantastic story about a teddy bear. They were incredibly thrilled to share in with us as a class, and we are so proud of their achievements and the effort they put in their story. Please look below to read the story for yourself.
Spring 2 Art: Rainforest Weaving- As part of our rainforest topic this term, we are learning how to weave using different materials. Year Five will agree that it is definitely challenging us to use different skills but they are loving the topic, and we hope to display the finished products creatively when completed.
Clonter Set & Lighting Design Workshop- We were very blessed to learn how to create a backdrop this morning with help from the Clonter Theatre Group. The children thoroughly enjoyed learning how to use different materials to create their own set design with lighting, related to their upcoming topic (Rainforests) in Spring 2. Also, in Spring 2, the children will be visiting Clonter Theatre in order to perform a short piece about Rainforests with a chosen backdrop.
Computing- As part of our Game Creator project, the children have really enjoyed learning how to create the games below. The children and teachers are very proud of the game they've produced this term. Why don't you have a go?
Dinosaur visit-Wow! What a scary yet amazing experience we had today. We were visited by a 7 year old velociraptor and a baby one too. We were able to interact with the dinosaurs as well as finding out about important facts such as fossils etc.
Forces- The children enjoyed investigating the effect that gravity has on unsupported objects. They dropped a light and heavy object into flour to see its effects They also enjoyed investigating whether weight had an effect on the object falling and its impact with the flour. They used their mathematical skills to measure the diameter of the crater that the object had formed.
Imperial War Museum- The children visited the Imperial War Museum as part of their World War II topic. They were able explore the impact of modern conflicts on people and society. Throughout their visit, they were able to visit exhibitions and events that covered real stories of war from WW1 to the present day.
My Book Blog- The children have been reading 'The Railway Children' in class and have loved analysing the vocabulary used. Here they are on 'My book blog' writing comments about the previous chapter and using their inference skills to answer questions about the text.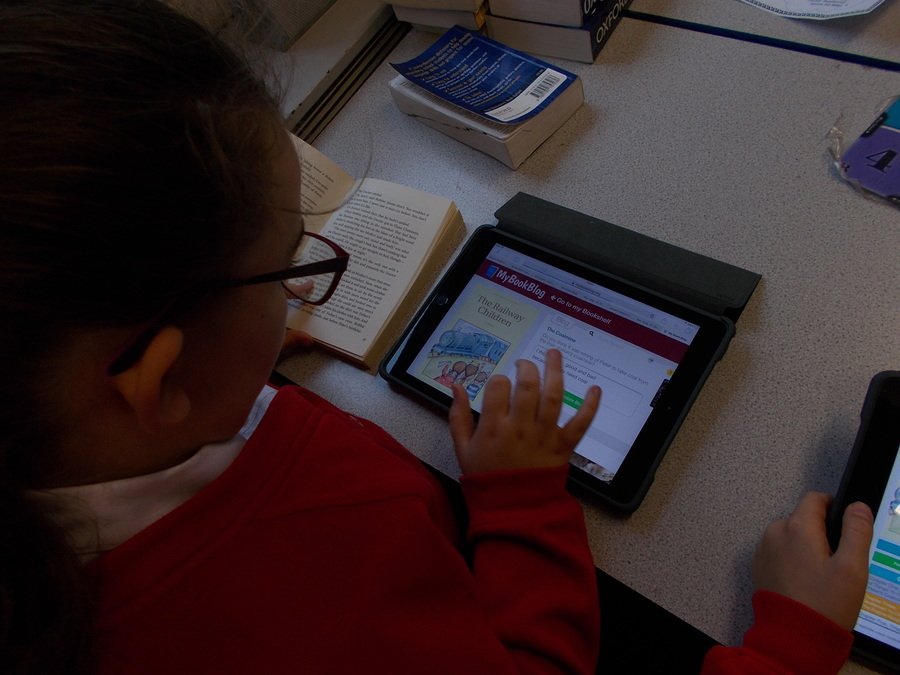 Related Documents
| Name | |
| --- | --- |
| Animals including Humans Knowledge Mat Planning - Summer 2 2018-19.docx | Download |
| Summer 2 - Topic Web.docx | Download |
| Brazil Knowledge Mat Planning - Summer 2 2018-19.docx | Download |
| Yr 5 Long Term Plan 2018-2019 1.pdf | Download |
| Summer 1 - Topic Web.docx | Download |
| Properties Knowledge Mat Planning - Summer 1 2018-19.docx | Download |
| Anglo Saxons Knowledge Mat Planning - Summer 1 2018-19.docx | Download |
| Spring 2 - Topic Web.docx | Download |
| Spring 1 - Topic Web.docx | Download |
| Autumn 2 Topic Web 2018.pdf | Download |