'Excellence Everyday'
'Learn, Live, Laugh and Love Ashurst'
Learn to be inspiring and make a difference to this world, we know how amazing you are,
Live with understanding and compassion for others, knowing we are all different and special in a community where equality stands tall,
Laugh and listen to the enjoyment of learning and excitement of everyone celebrating their achievements,
Love Ashurst, our special school and the hub of supportive staff, parents and children who aim high to be the best they can be.
Teacher

Miss E. Hunter

Learning Assistant

Mrs W. Duffy
About the class...
Year 5 - Mrs E. Hunter
Learning Assistants - Mrs W. Duffy
Year 5 is an extremely exciting year. A chance for our children to develop their confidence, independence and cooperation through a wide range of activities. As a member of the Year 5 team, children are encouraged to do the very best they can at every opportunity and the range of experiences are ever increasing. Excellence is key to what we do, whether children are inspired by a particular text or an exciting Geography project. Children will find our topics exciting which will make their experience in year 5 a rewarding one.
Feelings of wellbeing are fundamental to the overall health of an individual, enabling them to successfully overcome difficulties and achieve their full potential. That's why at Ashurst Mental health and well-being are high priority. We work hard to support the children to be happy and free from worry and anxieties. Therefore, we encourage the children to connect, be active, keep learning, help others and take notice. We also use wonderful stories to explore themes linked to mental health and well-being.
Learning Environment
Our Learning Environment is specifically organised to be rewarding and stimulating. Children are encouraged to take ownership of displays and areas so that they grow with them throughout the year. English and Maths are obviously very important and the key skills to excel in these areas are evident in the classroom environment to support the children's learning. Help is never far away and children find examples of best practice close to hand. We have working walls and writing resources, all of which are designed to help with our children's learning. We are certain the children will learn from their time with us and demonstrate their learning through high quality work.
All individuals
Each child enters Year Five at a different stage. Therefore we treat every child as an individual and plan to cater for their individual needs. We understand that every child learns in a different way and has different interests and it is our aim to adapt our teaching to suit the children. We encourage their independence throughout, allowing them to take ownership of their learning and achievements and to understand how to solve problems on their own.
Rules and Routines
At the beginning of the year, children are encouraged to contribute to our class rules and vision. This runs alongside the schools policies and procedures and is expected to further improve the learning environment for all and in turn develop strategies for 'Behaviour for Learning'. Conversation and discussion are encouraged in Year 5 and is balanced with dedication to learn and succeed through quiet and independent work.
Routine
Doors open 8:40am
Registration for Year 5 takes place at 8:45 am and the school day ends at 3:15pm
Important things to remember: -
Please provide a healthy snack for your child to eat at 10.45am

playtime

. Lunch will be at 12:30pm.
Each child can have their own

water bottle

on their desk, please provide these with their name on.
We have

PE

every

Monday

and Wednesday– please ensure that

your child attends school on this day in their PE kit

On these days children must wear the following PE uniform: Black jogging bottoms or black sports leggings , white PE tops , black hoody tops . Or a Summer PE kit : the usual red shorts and the white PE top.
There is a big emphasis placed on

homework

and extending learning beyond the classroom. This will usually consist of Math's activities (online), SPAG.com (online), Spellings (online), Reading Plus (online) and Times Table Rockstars (online) but may at times relate to other subjects. Homework is set on a Friday and should be completed by the following Thursday – please ensure you bring back spellings to Miss Hunter and complete online tasks on time. Children are expected to have rapid recall of all their times tables so it is essential children access Times Table Rockstars daily. We recommend little and often and a multi-sensory approach can help children to learn.
We will begin to send

home reading books

out as soon as we have read with your child.

Returned books will go into a quarantined box before being returned to the library. Your child will select a new home reading book from the school library every Wednesday, if they need to change it. We encourage the children to

read at home every night but at least three times each week.

This is part of the homework expectations and we appreciate your support with this. Your child has their own personal reading record for you to record their reading journey. We expect these to be completed every time your child reads their school book.

Topic webs

will be uploaded onto this class page in the first week of each half term. Topic webs will inform you of the learning taking place and will provide a list of project homework activities to complete at home. We are looking forward to you emailing in, or posting onto Seesaw, photos of your wonderful work for our class page on the website.
Children are asked

not

to bring any other personal items into school; we will provide all necessary stationery.
And finally, we will continue to use

SEESAW

to facilitate additional homework tasks. This will enable staff to set work, monitor work and provide feedback online.
What do we learn?
We have daily Maths and English/SPAG lessons. Our mastery approach in Maths develops mathematical fluency, reasoning and problem solving to allow children to gain a deeper understanding of the unit of work. We learn our Maths skills in different ways through practical resources and written tasks. We continue to work hard when recalling our multiplication and division facts. Our English work links to a whole class text or book. We use the text to explore grammatical features and to provide us with inspiration for exploring and writing different text types. We have reading lessons to help us work on year group reading objectives and have daily opportunities to read across the curriculum. In addition, we read frequently at home on Reading Plus as well as books from school or from home. We learn to read then read to learn!
We have a broad and balanced curriculum with lots of exciting lessons on a range of topics including: The Maya Civilisation and Central America, Game Creator, Living things and their habitats, Animals including humans, Frame Structures, Collage, North America, Anglo Saxons, Vikings, Coding etc. We aim to grow scientists, historians, geographers, artists, linguists, musicians and much more! We make links with different subjects across the curriculum and aim to apply our Maths and English skills in different contexts. Click on the topic webs or Long Term Plan for more information about the exciting learning taking place all year in year 5.
Year 5 Long Term Plan 2023-2024
Learning from 2022-2023- Take a look at the fabulous learning that took place last year.
We researched a healthy, nutritional spaghetti Bolognese and then worked together as a team to cook it. It was so much fun and delicious.
Maths
The children always work really hard in Mathematics, always challenging themselves. They continue to use manipulatives to support their learning and enable them to answer difficult mathematical calculations.
The children continue to work hard during Spanish and love to revise and recap all their learning.
P.E
The children were working hard to learn the skills of basketball. They learned to dribble the ball, pass to teammates, pivot on the spot without travelling, play defence and how scoring in basketball works.
Maths
The children are working collaboratively with their kagan partners to understand place value.
English- Talk for Writing
The children are immersing themselves into their explanation text by learning the words and actions. This will then support the children in successfully writing their own explanation text using all the vocabulary and grammar discussed from the model text.
History
The children were revising all the different time periods they have studied over the years and was sorting them into chronological order. They made observations about how the time periods overlapped and discussed this meant. In addition, they wrote down key knowledge what they could remember from different eras.
We have had so much fun over the Christmas period. We made Christmas cards and undertook Christmas crafts as well as watching an amazing pantomime. We worked as team year 5 to co ordinate a Christmas fayre that was really successful as well as much more.
Christmas Fayre
We had so much fun co-ordinating our Christmas Fayre. As a class, we decided and made our own Christmas games for everyone to enjoy as well as making Christmas crafts annd the delicious Rocky Road. We really enjoyed the whole experience.
Crucial Crew
The children enjoyed learning all about safety during their class trip. They took part in different workshops such as road safety, internet safety, cyber bullying and how to make emergency calls.
DT Flood Proof Homes
One of the reasons the Anglo Saxons left their homes in Scandinavia was due to flooding. Linking to this, the children researched about flood proof homes and designed and created their own. They learned new skills to measure and saw the wood as well as using a hot glue gun to put the structure together.
Talk 4 Writing
The children love learning the model text by creating a story map and learning the actions for the story. They enjoy analysing the language and vocabulary used so they can record some words and phrases within their magpie books to use in their own narratives or descriptive writing.
Safer Internet Day
The children continued to discuss the importance of staying safe online. They then created posters to showcase this, remembering to include new knowledge they had learned at crucial crew.
Reading Rocks
Year 5 love to receive our Reading Rocks surprise.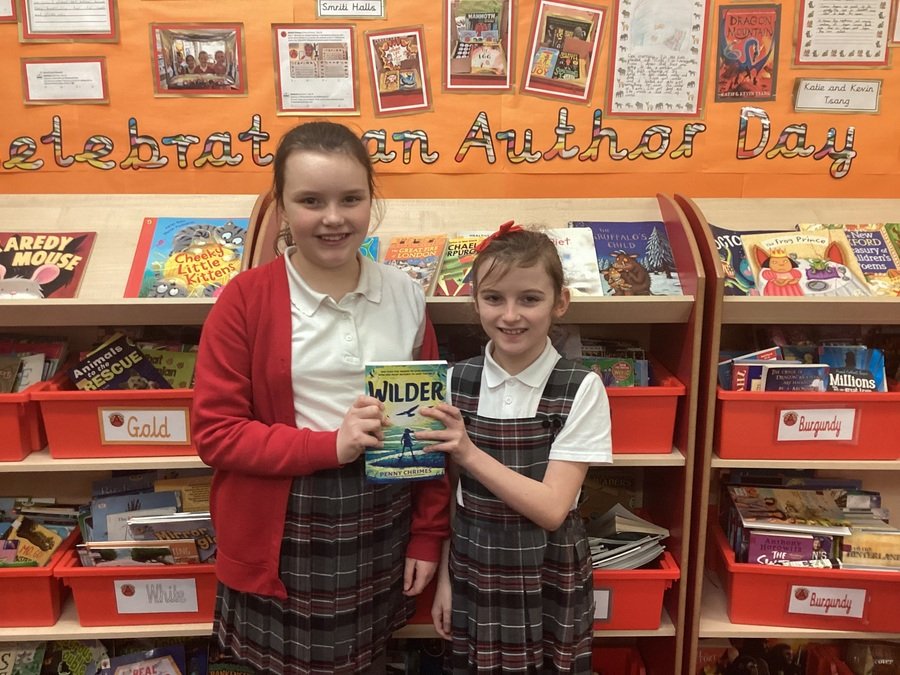 Summer Term Learning 2023
Reading
In Year 5 , we love to read a range of books with different genres and discuss the purpose of the language used by the author. Today, we were discussing an extract of War Horse and why/how the author has portrayed the different characters. We had to justify our reasons orally with evidence from the text.
D.T
The children have loved making their pop up books to read to year 1 (5 year old children). In order to spark and capture the interest of the children, Year 5 undertook research. They found out that pop up books should be colourful and eye catching, the lettering should be larger and not joined and the books should be based on something familiar such as nursery rhymes. We are so proud our work!
Music
In Music, we realise the importance of warming up our voices when we are going to sing. We are aware that our voice is one of the most amazing instruments we have access too.
The children love playing the glockenspiel to pieces of music. They were discussing the number of beats to support them when playing.
Book recommendations for Year 5
Follow the link below to view a wealth of recommended books for your child in Year 5.
You will never be short of book suggestions with this site. Children we hope you find something you love.
'The Reader Teacher' - Visit this site to view 100 'must reads' for YEAR 5 https://www.thereaderteacher.com/year5