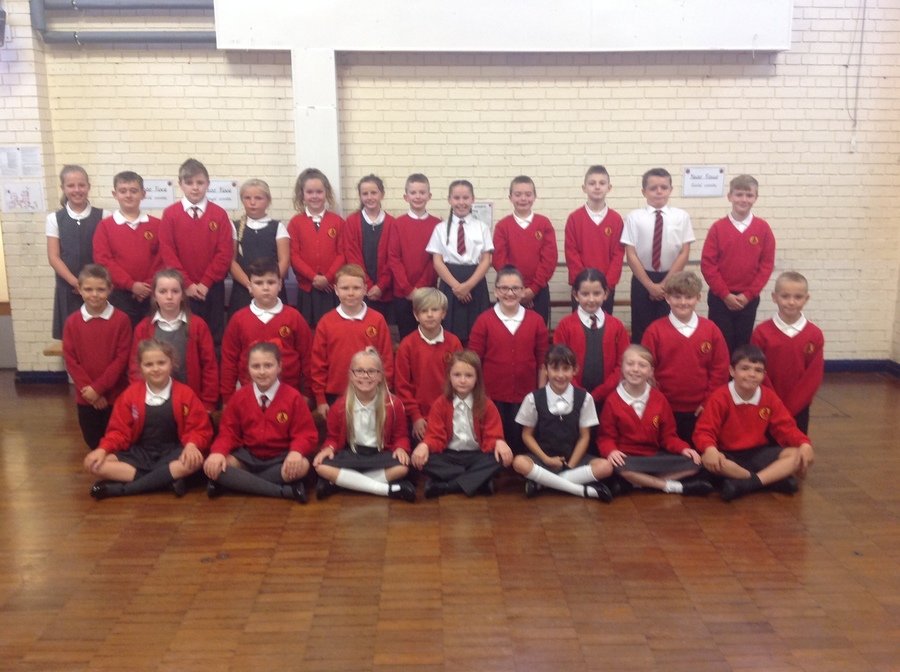 Teacher

Mrs K. Crampton

Learning Assistant

Mrs N Wood

Learning Assistant

Mrs M Friar
About the class...
Year 5 - Mrs K. Crampton
Learning Assistants - Mrs N. Wood and Mrs M. Friar
Year 5 is an extremely exciting year. A chance for our children to develop their confidence, independence and cooperation through a wide range of activities. As a member of the Year 5 team children are given many opportunities to develop important life skills through Literacy and Numeracy. They are encouraged to do the very best they can at every opportunity and the range of experiences are ever increasing. Excellence is key to what we do. Whether children are inspired by a particular text such as Millions or an exciting Geography project. We are sure our children will find our topics exciting which will make their experience in year 5 a rewarding one.
Learning Environment
Our Learning Environment is specifically organised to be rewarding and stimulating. Children are encouraged to take ownership of displays and areas so that they grow with them throughout the year. Literacy and Numeracy are obviously very important and the key skills to excel in these areas are highlighted on bright and colourful displays. Help is never far away and children find examples of best practice close to hand. We have working walls and writing resources, all of which are designed to help with our children's learning. We are certain the children will learn from their time with us and demonstrate their learning through high quality work.
Rules and Routines
At the beginning of the year children are encouraged to contribute to our class rules. This runs alongside the schools Golden Rules and is expected to further improve the learning environment for all and in turn developing strategies for 'Behaviour for Learning'. Conversation and discussion are encouraged in Year 5 and is balanced with dedication to learn and succeed through quiet and independent work.
What do we learn?
In Year 5 children cover a wide range of topics. Literacy and Numeracy play a huge part in everything they do. Children learn about many aspects and genre and grammar. In maths they will experience a wide and varied approach to all aspects of calculations and concepts. Through Science; they will learn about keeping healthy, properties of materials and the world around them through Challenge. In Science we will study life cycles of plants and animals and in History a range topics too; such as The Maya Civilisation and Charles 1st.
Check out our Year Five class gallery!
Clonter Opera Theatre Project- We had a fantastic opportunity to work collaboratively with Clonter Opera Theatre in Congleton in order to produce our very own production. As part of the planning for our production, we took part in set and lighting design, singing and then costume design workshops. As a result, we were able to create a production to show how a family of monkeys were affected by deforestation happening in their part of the Amazon rainforest. We thoroughly enjoyed developing our social skills and confidence as part of this project.
Forces- The children enjoyed investigating the effect that gravity has on unsupported objects. They dropped a light and heavy object into flour to see its effects They also enjoyed investigating whether weight had an effect on the object falling and its impact with the flour. They used their mathematical skills to measure the diameter of the crater that the object had formed.
Imperial War Museum- The children visited the Imperial War Museum as part of their World War II topic. They were able explore the impact of modern conflicts on people and society. Throughout their visit, they were able to visit exhibitions and events that covered real stories of war from WW1 to the present day.
Enter text...
Spring 2 Art: Rainforest Weaving- As part of our rainforest topic this term, we are learning how to weave using different materials. Year Five will agree that it is definitely challenging us to use different skills but they are loving the topic, and we hope to display the finished products creatively when completed.
Bikeability
The children really enjoyed riding on the roads around school and learning about the importance of road safety.