'Excellence Everyday'
'Learn, Live, Laugh and Love Ashurst'
Learn to be inspiring and make a difference to this world, we know how amazing you are,
Live with understanding and compassion for others, knowing we are all different and special in a community where equality stands tall,
Laugh and listen to the enjoyment of learning and excitement of everyone celebrating their achievements,
Love Ashurst, our special school and the hub of supportive staff, parents and children who aim high to be the best they can be.
Class Teacher

Miss J. Fildes

Learning Assistant

Miss L. Foster

Learning Assistant

Mrs P. Evans
About the Year 3 class
Staff: Miss Fildes, Miss L. Foster and Mrs P. Evans
Year 3 is an exciting year as the children learn how to be more independent and practice skills to encourage independent learning such as researching on the internet and using books and dictionaries. They are encouraged to solve problems for themselves and rely less on support for day to day tasks. Presentation and handwriting is very important and as the children move into KS2 they learn how important it is to present their work well. Most children will earn their pen by the end of year 3 – but this can only be achieved once they are joining their writing, spelling accurately and presenting their work neatly.
Learning Environment
We have a safe, caring learning environment where children's individual talents and achievements are recognised and built upon. Mental health and well-being are high priority in Year 3. We work hard to support the children to be happy and free from worry and anxieties. We promote positive self-talk and resilience and guide children through any difficulties they face.
What do we learn?
We have daily Maths and English/SPaG lessons. We also have reading lessons to help us work on year group reading objectives. In Maths, we use a mastery approach to enable all children to gain a deep understanding of the unit of work. The activities we complete range from practical to written in order to cater for the different learning needs of the children.
We learn about lots of exciting topics such as the Stone Age, Animals and Humans, Ancient Egypt, Computer Coding, Painting and Sculpture, Spanish, PE, playing the Glockenspiel and different Religions. Click on the Long Term Plan and Topic Web documents for more information on the exciting learning journey that takes place each half term.
Important things to remember for September 2022
Registration takes place promptly at 8:45am and the school day ends at 3:15pm - your child will enter and leave from Year 3's classroom door.
Please provide a healthy snack for your child to eat at 10:25am playtime. Lunch will be at 12:00pm.
Each child can have their own water bottle on their desk, please provide these with their name on.

PE

for this year is on a TUESDAY and THURSDAY, please ensure that your child comes into school wearing their PE Kit on these days. Children will continue to come into school in PE kits on their days for PE. On these days children must wear the following PE uniform: Black jogging bottoms or black sports leggings, white PE tops , black hoody tops . Or a Summer PE kit : red shorts and the white PE top.
Weekly

homework

will be set on a Friday and needs to be completed by the following Friday. This will usually consist of Math's, Spellings, SPAG.com (online), and Reading Plus (online) but may at times relate to other subjects.
We will begin to send

home reading books

out as soon as we have read with your child.

Your child will select a new home reading book from the school library when they need to change it. We encourage the children to read at home every night. This is part of the homework expectations and we appreciate your support with this. Your child has their own personal reading record for you to record their reading journey. We expect these to be completed every time your child reads their school book.
Topic webs will be uploaded onto this class page in the first week of each half term. Topic webs will inform you of the learning taking place that half term, you may wish to discuss key learning with your child at home.
Children are asked not to bring any other personal items into school; we will provide all necessary stationery.
And finally, we will continue to use SEESAW to facilitate additional homework tasks. This will enable staff to set work, monitor work and provide feedback online.
Book recommendations for Year 3
Follow the link below to view a wealth of recommended books for your child in Year 3. You will never be short of book suggestions with this site. Children we hope you find something you love.
Year 3 Long Term Plan 2022-2023
Take a look at our amazing learning from last year. This page will be updated with new learning for the academic year 2022-2023.
Roald Dahl Day
On September 13th 2021, we dressed up to celebrate Roald Dahl because this is his birthday. We dressed up as our favourite Roald Dahl characters, some of us wore yellow too, Roald Dahl's favourite colour. We learned about his life and listened to extracts from some of his famous stories. We really enjoyed 'The Twits'......can you spot Mr Twit in our class?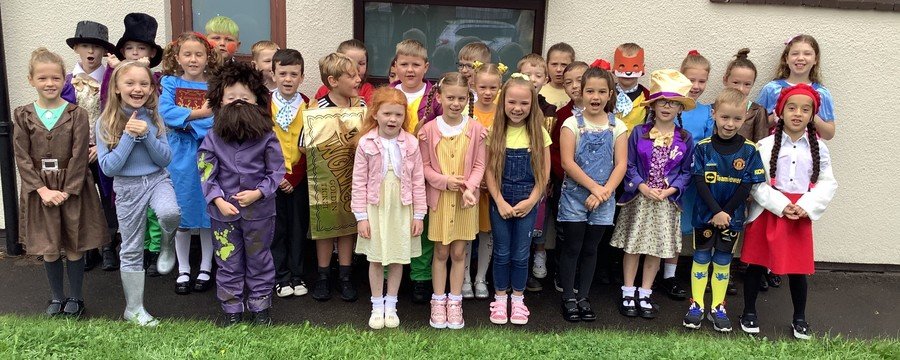 Partitioning two digit numbers
Today we used different representations to show how a two digit number can be partitioned.
Writing
Prepositions tell us where something is (for example, beside, under, on, against, beneath or over). We looked at pictures with our Kagan partners and created sentences using different prepositions.
Geography
As part of our learning enquiry to investigate how many different ways land can be used in the UK, we used technology to look at different types of maps in our local area.
Field Trip
Today we walked in our local area to describe and draw the journey on a map, locating features and land-use seen on our journey.
Look at our Hockey skills
We are learning how to pass and defend in hockey....look out Olympics, year 3 are in training!
The Owl and the Pussy Cat
As part of one of our reading lessons we answered comprehension questions about Edward Lear's classic poem 'The Owl and the Pussy Cat'. Next we learnt the poem and performed it for others to watch.
Science
We worked with our kagan partners to find the longest bone in our bodies. We found out that this was our leg bone and chose to investigate if this made us jump further, the longer it was. We predicted who would jump the furthest based off our measurements. What do you think?
Sculptors at work
After researching the works of Barbara Hepworth and Henry Moore, we designed and sculpted our own Stone Age clay models. These were inspired by different aspects of these modernist artists. We hope that you like them.
Science through Drama
Year 3 had visitors today - Altru Creative Education delivered a drama workshop based on healthy eating, one of our Science topics from this half term. The children embedded all of their knowledge and even created plates of healthy food using their bodies
Visit from Capoeira Brazilian Dance Company
Year 3 have been fortunate to have a visit from Capoeira. This is a form of dance from Brazil using different rhythms and making pictures in dance in response to the music. We enjoyed learning about the sensory experience of the music and movement.
Year 3 went back in time to The Stone Age at Tatton Park
Do you know how to tell the age of a deer by it's antlers? We do! Do you know how to make wattle and daub? We do! Can you farm with pre-historic tools? We can!
Can you make fire with flint? We can! Can you build a shelter with animal skin and tree branches? We can!
Take a look at our adventures, when we went back to the Stone Age.
World Book Day March 2022
Look at how amazing we all look, dressed up as our favourite characters.......WOW!!!!
Merry Christmas from Year 3