Meet our fabulous Year Three class 2019-2020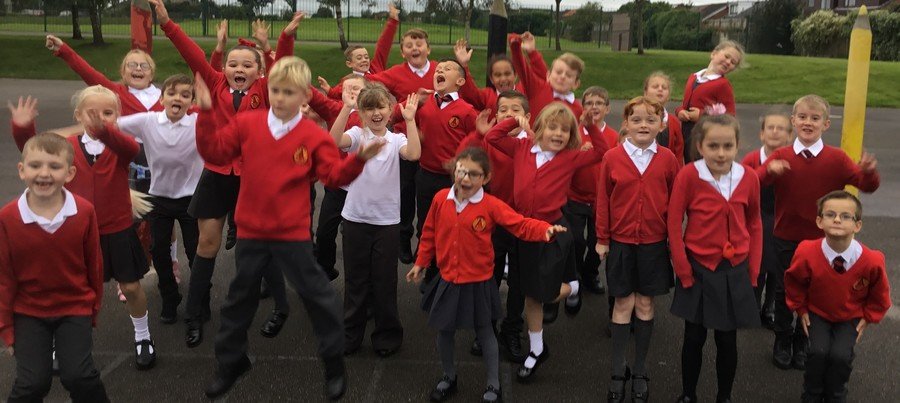 Teacher

Miss J. Fildes

Learning Assistant

Mrs A. Johnson

Learning Assistant

Mrs H. Murphy

Learning Assistant

Mrs L. Kenyon
About the class...
Year 3 - Miss Fildes
Learning Assistants - Mrs Johnson, Mrs Murphy and Mrs Kenyon
Year 3 is an exciting year as the children learn how to be more independent and practice skills to encourage independent learning such as researching on the internet and using books and dictionaries.
They are encouraged to solve problems for themselves and rely less on support for day to day tasks.
Presentation and handwriting is very important and as the children move into the juniors they learn how important it is to present their work well.
Most children will earn their pen by the end of year 3 – but this can only be achieved once they are joining their writing, spelling accurately and presenting their work neatly.
Learning Environment
We have a safe, caring learning environment where children's individual talents and achievements are recognised and built upon.
We have both Numeracy and Literacy working walls and the children are encouraged to develop their independence by accessing the resources when necessary.
We have five ipads and three class computers plus have access to 15 laptops each week, enabling us to have lots of opportunities to develop our computing skills.
Literacy and Numeracy
Literacy and Numeracy are taught daily and are often incorporated into other lessons.
The activities we complete range from practical to written and they are always differentiated to cater for the different learning needs of the children.
Our Literacy lessons are taught around books such as 'Charlie and the Chocolate Factory', 'The Twits' and 'The Iron Man.'
We use the text to explore grammatical features and to provide us with inspiration for exploring and writing different text types.
Topics
We learn about lots of exciting topics through the Learning Challenge Curriculum, such as The Ancient Greeks, Rocks and Volcanoes, and the history of our local area.
They go on some exciting trips and have visitors in school to extend their learning in these areas. Click on the 'Topic Web' documents, for more information.
Important things to remember: -
We have PE every Monday and Friday – please ensure that your full PE kits are in school for these sessions.
Homework is set on a Friday and is due back on the following Friday – please ensure you bring it back on time.
Reading books are changed as soon as the children tell us that they have finished a book. If there are any issues please don't hesitate to ask.
Spellings are provided as part of their homework and are tested the following Friday - please ensure your child learns these spellings at home. We recommend little and often.
Online homework is updated each Friday, this will consist of Times Tables Rock Stars and Spag.com.
Visit from The University of Manchester Department of Electrical and Electronic Engineering
Year 3 took part in a workshop where they designed and made a circuit for their own light bulb. We now understand how lights in our own homes work, as this is the same but on a larger scale with more wires. Children also took part in a Question and Answer session with Alex an Associate Professor from The University of Manchester and found out all about careers and studies in Electronic Engineering.
Book Bus Visit
Another visit from the Book Bus today had us all very excited! We were thrilled to see the shelves stacked with our favourite authors and titles. We even made our own choices of purchases.
Science Rocks!
We tested 8 different rocks to investigate if they were permeable or impermeable. We learnt why it is important to know what features rocks have. Would you want an impermeable roof?
Stonehenge Paintings
How wonderful are our paintings! We learnt all about primary and secondary colours and then practised different shades of colour by adding white.
| Name | |
| --- | --- |
| Yr 3 Long Term Plan 2019-2020 .pdf | Download |
| Spring 1 Y3 Topic Web .pdf | Download |
| Why is climate important Knowledge Mat Spring 1 Geography.pub.pdf | Download |
| Light and Shadows Knowledge Mat Spring 1 Science.pdf | Download |
| Aut 2 Y3 Topic Web 2019-20 final.pdf | Download |
| Extreme Earth Knowledge Mat Aut 2 Geography.pdf | Download |
| Science Forces Knowledge Mat Aut 2.pdf | Download |
| Science Rocks Knowledge Mat Aut 1.pdf | Download |
| Stone Age Knowledge Mat Aut 1.pdf | Download |
| Aut 1 Y3 Topic Web.doc | Download |
Showing 1-10 of 10
Take a look at our learning so far this year 2019-2020
Stop! Police! Enter with caution!
Today, the police had taped off a section of our playground due to some mysterious metal body parts that Mrs Leather had found this morning. We had to answer the 5W questions (Who, What, Where, When, Why?) and write a report on what we had found.
Funnily enough, we are starting to read The Iron Man by Ted Hughes, how strange!
Year 3 travel back in time to the Stone Age ! Tatton Park Trip
What a fantastic day! Year 3 travelled back to the Stone Age times, building fires using flint, planting seeds using animal bones, grinding wheat using stones and handling artefacts. We even went hunting for wild deer (we weren't going to hurt them) and came across a huge stag. We had to be silent because he was only 20 foot away.
We can speak Spanish
Now that we are in KS2, we have started to learn a foreign language. Do you like our singing? These are the days of the week in Spanish.
Column Addition
To help us with our understanding of exchanging in column addition, we worked with our Kagan partners to exchange diennes. When we come to write the calculations in our books we will now understand why we need to exchange .
Would we survive in the Stone Age?
The answer to this question is that Year 3 would definitely survive. Take a look at the projects made by our children. Aren't they amazing!
Stone Age Cave Art
To mimic how the Stone Age people felt when creating cave art, we crawled under our tables and held our books up high to draw animals. Our arms were aching and we found it really difficult but it was lots of fun!
Looking at soil in detail
We used the microscopes today to observe what soil looks like. First, to get used to focusing the microscopes, we analysed sand, a dead wasp, sugar, coins and tissue paper. We were astounded at the results.
Welcome to your new class, Year Three. Take a look at the fabulous learning and enrichment that took place last year (2018/19). Keep checking back to this page for new learning this year.
Sewing projects
Over the past few weeks we have been learning different techniques in sewing. Look at our designs, we are so proud of them.
Roman Numerals
We are learning all about time so we have learnt about Roman Numerals. We learnt that Roman numerals are a number system that originated in ancient Rome . Numbers in this system are represented by combinations of letters.
Victorian Day
Today, Year 3 were transported back to 1887 with a visit from Miss Banks from the Victorian era. We had to dress and behave like Victorian children , we did handwriting in our copybooks, practised our 8 times tables and had a spelling test. Miss Banks was quite scary, it was very different to our school days at Ashurst.
Scary Skeletons
As part of our Science we needed to learn the names of the human bones. Today we assembled our own skeleton from individual body bones and then labelled them. We even used an App on the ipad with a special T-shirt to be able to see inside our bodies.
Science Rocks
As an introduction to our Science topic we analysed and discussed lots of different types of rocks. We didn't realise that there were so many different types and this brought about many questions and observations. "Is this real chalk?" "Why has this got lots of lines in it?" "This looks like it has a diamond in it" "There's a leaf pattern on this one" "This looks like my nan's fireplace"
Maths
Before we start learning any new strategies in Year 3, today we used our place value knowledge to read numbers in words, base 10, digits and partitioning. We worked with our Kagan partners discussing why we had chosen each representation.
Fossil Hunters
Today we became Paleontologists, searching for dinosaur fossils. We used our reading skills to find out more about these historical, extinct creatures.
Dinosaur Visit - Wow, what an amazing day we had at Ashurst this morning. We were visited by a 7 year old velociraptor and a baby one too. Year 3 thoroughly enjoyed interacting with these dinosaurs and an added bonus ....... no-one was eaten alive !!
The Iron Man - Design & Technology
Year 3 are loving reading the Iron Man by Ted Hughes. As part of Design and Technology we designed our own life sized Iron Man and then made him out of recyclable material. Each Kagan group then went on to make their own small Iron Man too.
We hope that you like them.
Erupting Volcano - As part of our topic we have emerged ourselves into home projects. Today we watched our fellow Scientist, Dylan, make his volcano erupt with fake lava.
He had placed bicarbonate of soda to the inside of his volcano and then poured vinegar and red colouring into it. Look at our eruption!
Manchester Museum Visit
Today we visited the Museum of Science. Our main aim was to attend a workshop on "How does light travel?" The Scientist taught us lots of facts. She shot a Nerf gun at Miss Fildes to demonstrate that light travels in a straight line. Layla look like she has had her head chopped off but this was because they used mirrors to reflect items. It looked like we had made lots of copies of Tia however this was just an illusion also created by mirrors.
We also spent time in the experiment area where we had lots of fun.
First Aid and CPR Training
As part of PSHE we all learnt how to administer basic CPR and follow the safety advice given by the qualified nurses that trained us. Each child had the opportunity to participate in this training and now feel confident to know that we can step in to help someone else in need and in the most extreme cases - it could potentially save a life.
World Book Day
Today every child in Year 3 came to school dressed as a book character...amazing effort. As part of our day we joined the Nursery Class and read their chosen books to the children. It was such an amazing opportunity for each child to share their love of reading with each other.