Nursery class 2020-2021 Welcome Message
'Excellence Everyday'
We can't wait to to welcome you all and start the new school year with you. You will shine bright in all your new learning in the year ahead.
'Learn, Live, Laugh and Love Ashurst'
Learn to be inspiring and make a difference to this world, we know how amazing you are,
Live with understanding and compassion for others, knowing we are all different and special in a community where equality stands tall,
Laugh and listen to the enjoyment of learning and excitement of everyone celebrating their achievements,
Love Ashurst, our special school and the hub of supportive staff, parents and children who aim high to be the best they can be.
Our new stars of Nursery!
Class Teacher

Miss M. Hogg

Learning Assistant

Mrs L. Goldsack
About the class...
Class Teacher - Miss M. Hogg
Learning Assistants - Mrs. L Goldsack
Ashurst has a 26 place morning nursery for children with an admission each September, January and April. Places are available for children the term following their 3rd birthday.
The nursery provides a high quality start for your child's education and children who attend our nursery are well equipped for their full time education in the following September.
Applications for a place are managed by the admissions section of the LA and forms can be collected from our main school office.
Nursery Long Term Plan 2020-2021
Nursery Covid-19 (Home Learning)
'Gap Learning Packs' have been issued for our current Nursery at the end of summer term to support your child in preparation for the September 2020 start. These are in addition to previous packs sent out and the online learning provided below and on the Home Learning Page in Parent Zone. We really value the amazing work you are doing at home with your child/children.
Please access the home learning tasks below to support continued home learning.
Musical Tots and Bumps
We are delighted to share with you this session of Musical Tots and Bumps. The wonderful vocal tutor, Miss Littler has recorded some songs for your children to learn and sing along with. These come from St Helens Music Service Early Years programme in schools and libraries and are a fun way for you to help your child develop their speech and movement through action songs - there will be updates weekly on You Tube for you to access. Have fun!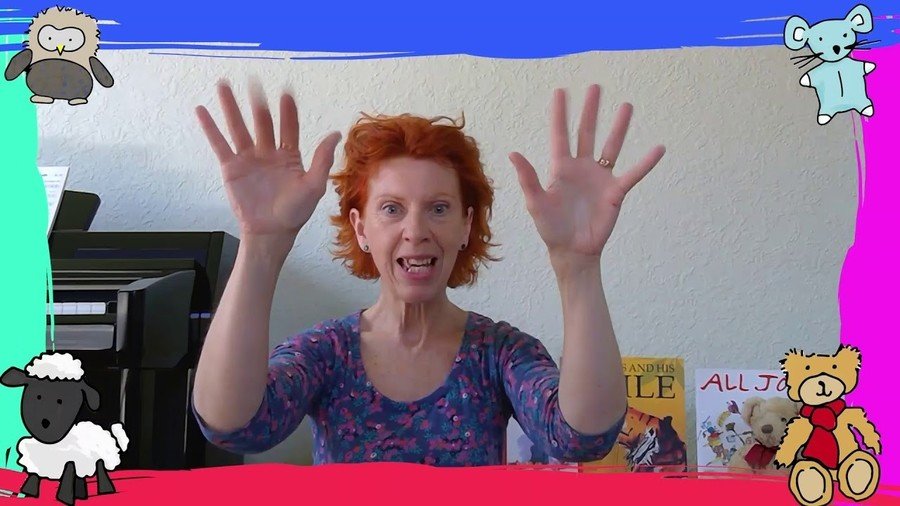 Story time
Hope you are all ok and staying safe.
I have missed sharing stories and reading with you all so much so I thought it would be nice to share one of our favourites with you.
I hope you enjoy it!
(also available on tapestry).
How to help young children learn at home
You can help your child to learn through the little things you do with them, for example:
everyday conversations
make-believe play
games with numbers or letters
reading together
involving them in the things you are doing, such as household chores, and talking with them about it
Find ideas for new things you can try at Hungry Little Minds.
You do not need to set separate time or plan complicated activities dedicated to learning. These activities can be incorporated into everyday life and play.
You know your child best. Avoid forcing them into lengthy planned activities if they naturally respond better to a mix of shorter activities. This can stop them getting bored or frustrated and keep them active, interested and learning through things they enjoy.
Keeping a routine
Do not worry about trying to keep to the full routine that your child had in nursery or with their childcare provider. But children will feel more comfortable with a predictable routine, so try to make sure they:
get up and go to bed at the same time each day
have regular meal times
turn off any electronic devices, including the TV, at least an hour before bedtime
Keeping active
Young children should be active for at least 3 hours a day in total.
It is also good to get some fresh air every day. If you do not have a garden and are taking children outside to exercise, make sure you follow the rules on social distancing.
While inside, there are plenty of things you can do to keep children active, such as:
playing hide-and-seek
seeing who can do the most star jumps
making an obstacle course
playing music and having a dance-off
Television and using digital devices
There are lots of ways to help your child to learn such as reading together and make-believe play. You can also use what children have watched on television or the internet to help their learning. Talk with them about what they are watching or use their favourite TV characters in other games and activities.
Digital devices such as a laptop, desktop, tablet or smartphone can help some children learn. If your child does use them, try downloading some apps that will help them learn.
Set age-appropriate parental controls on any devices young children are using and supervise their use of websites and apps. See advice on keeping them safe online.
Try sharing things your child makes with your friends and family online and encourage others to do the same. Your child might enjoy seeing things they have made on the screen or seeing what other children have done.
You can also visit Hungry Little Minds for ideas of activities to do together without using a device.
Socialising while social distancing
Spending time with other children is important for your child's development, but at the moment it is important they stay at home.
It will help them if everyone in the home talks with them through the day, responding to them and being led by the things they are interested in.
Visit Hungry Little Minds for more information about talking with your child.
If you can, try a video call with other children. Younger children may not have a conversation as you would, but they can share activities or show each other things they have made or like.
Try a call with other people that your child knows, such as grandparents.
Sit and do the call with them to help. Not all children will like it, so try again another time or have a call with family members while you are sitting down and eating a meal.
Try sitting with your child and looking at pictures of their friends or family. Talk about them and the things you have done together.
NEW Mental Health and Well-being resources - see the home learning page and the link below
New resource to support mental health and well-being with your child
wk 1 You will find the first week's resources available via ShareFile https://barnardosuk.sharefile.eu/d-s4d9883f0b9d44afb
Part Two Weekly Home Learning Tasks - From Monday 1st June
| Name | |
| --- | --- |
| Home Learning Project Week 1 UNDER THE SEA.pdf | Download |
| Home Learning Project Week 2 SPORT .pdf | Download |
| Home Learning Project Week 3 RAINFOREST.pdf | Download |
| Home Learning Project Week 4 FAMOUS AND SIGNIFICANT PEOPLE .pdf | Download |
| Home Learning Project Week 5 AROUND THE WORLD .pdf | Download |
| Home Learning Project Week 6 MUSIC.pdf | Download |
| Home Learning Project Week 7 SPACE .pdf | Download |
| Home Learning Project Week 8 TRANSPORT.pdf | Download |
Showing 1-8 of 8
Take a look at our exciting learning in Nursery 2019-2020
Learning through play
In nursery play is one of the key ways in which children learn and grow. It provides children with vital opportunities to develop their language skills, emotions, creativity and social skills. At Ashurst we have abundance of opportunities and resources ensuring children make sense of their world.
World Book Day
We had so much fun celebrating world book day! It is so important to us to share our love of reading with the children and allowing them to express theirs. In nursery we started our day of celebrations with ' a big booky breakfast', where children and parents were welcomed into nursery for breakfast and a story. We then had some year 6 visitors who inspired the children by reading to them.
Thank you so much for all your efforts and involvement.
The 'Roarsome' world
A topic where we enjoyed becoming dinosaur experts! We started the topic by discovering a mysterious egg, we then had a visit from an 'eggspert' she shared important information how to look after the egg and what was inside....... A DINOSAUR!
We continued the topic by learning about the beginning of the world when dinosaurs lived, how they lived, what they ate, what they looked like and how we know they existed through the discovery of fossils.
Our topic ended with a package from the egg expert sharing updates about the egg and she sent us some fossils to explore.
Christmas
We had so much fun during the build up to Christmas! It started with a visit from the elf (who got up to some very cheeky things), we made Christmas cards for our families, explored magic snow, decorate our Christmas tree and finally ended the term with a breakfast with the elves themed party and a Pajamas film day.
All about Me Books
For our topic 'This Is Me', each child was given a blank all about me book. They each had to fill their books with various exciting things that would help us learn all about them: what they like, favourite things, family and special events etc. We were really wowed with the outstanding effort by parents and children, their books were amazing! Children shared their books telling us all about what was on each page and why (the buzz from each child when sharing them was heartwarming).
We saw some wonderful things such as: leaves from walks, photo's of holidays, hand prints, favourite food packets, cinema tickets, drawings of favourite toys and even an amazing sticker collage! Thankyou for your brilliant effort.
We really did love hearing all about about you.
Clever Cogs Learning Street
Yet again we had another fantastic experience and visit from Clever Clogs Learning street. Children had the opportunity to play, learn and complete activities in a building site, vets, police station and the newest addition was a archaeology cave. Children really did have so much fun!
Keeping our body and Mind healthy
In nursery we have been learning all about ways we can keep our body and mind healthy.
Hand washing
We started by sharing the importance of washing our hands and keeping germs away, children then watched and copied hand washing techniques and sang a song to help. Children then received a sticker and had to ask their adults if they had washed their hands today too.
Brushing our teeth
Next we talked about why we need to look after our teeth by brushing them. Children sang a song about brushing teeth and then had a go using a toothbrush and printed mouth. Children then received a toothpaste and brush pack to use at home.
Eating healthy foods
Our favourite kind of activity food tasting! Children were amazing at trying new healthy foods, even though some of them looked very strange! We tasted celery, lettuce, red pepper, plums and strawberries. We shared our thoughts on foods that are healthy and unhealthy and talked about how we may have some things as a treat, like chocolate.